Blog
Art From Auschwitz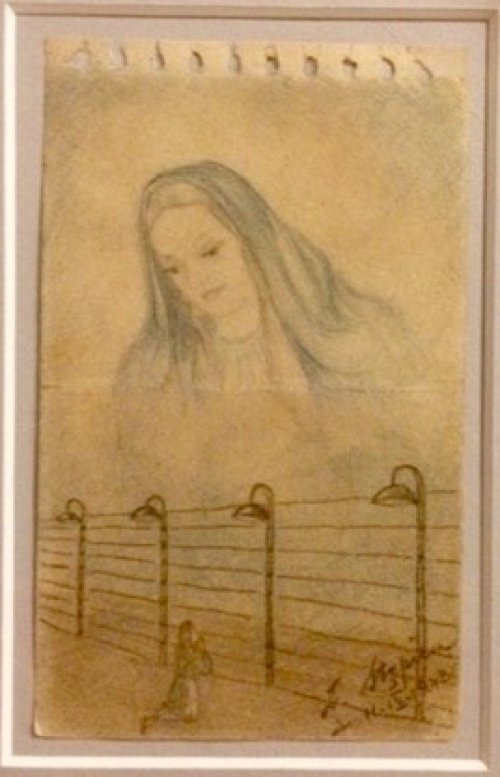 In September I went to Krakow for the ECArTE conference (arts therapies) and travelling a few days before gave me opportunity to visit Auschwitz. I didn't want to go. I felt I needed to go. It is a hideous place. It feels all wrong to class it as a 'tourist attraction' as if there is money to be made by people's suffering. But it is a World Heritage Site and its continuation is, in my mind, vital. We must never forget what atrocities human beings are capable of committing against other human beings.
Standing in the desolation of Birkenau the realization came to me that I was wrong about something. In Playful Awakening, I make the bold claim that play is universal. That play exists everywhere. No, I told myself, there is no way it could have existed here…
Two days later, wandering around Krakow old town I discovered this exhibition - Face to Face. Art in Auschwitz in the Szołayski Tenement house, a branch of the National Museum in Cracow. The exhibition was made for the 70th anniversary of the establishment of the Museum on the site of the former German Nazi concentration and extermination camp. It is the first comprehensive presentation of original works made in the camp by Auschwitz prisoners.
'Art created in the horrible reality of Auschwitz is a unique document of the camp and a testament to the artists; struggles for their own humanity. Behind the gates of the German Nazi Auschwitz camp, many representatives of the Polish intelligentsia, perceived by the German authorities as especially dangerous were imprisoned, because of fear they may become involved among others, in activities of the resistance movement, or provide spiritual and moral support in the harsh realities of the occupation. Among them was a large group of professional visual artists.
At a later period, artists from other nationalities were also sent to KL Auschwitz, mostly Jews. The latter had much less possibility for artistic expression, because the camp authorities treated Jewish prisoners most ruthlessly. Nonetheless, some of them also created in the camp.'
Artists were ordered to create propaganda art that included plans for expansion of the camp and the documentation of medical experiments. I understand these images proved to be invaluable evidence in the ensuing investigations and trials that followed the war. Yet these were not the only pieces. The exhibition also contained works created illegally, depicting the camp reality. Prisoners risked their lives to do this. Exhibition curator Agnieszka Sieradzka, '…these works were created in a condition of constant threat to life and all materials readily available to the prisoners. They therefore constitute a unique cross-section of virtually all painting techniques: pencil, ink, crayon on paper, oil on hardboard or canvas from tablecloth, pastel on wrapping paper, watercolour on cardboard and many more.'
The artists also used their creative capacities to act as a means of self-defense against the atrocities they are their fellow prisoners suffered. In other words, they used what Mooli Lahad calls, 'Fantastic Reality'. This is the ability to use play – including imagination, role play, story – to alleviate the unbearable suffering that we cannot escape. It is that capacity to create 'a world within' that offers escape, respite, strength, courage, the will to survive, to continue against all odds.
The image above was created by a prisoner who knew the mountains intimately and could relive those experiences of freedom, nature, beauty in his mind when all around him were the horrors of starvation and death.